This article covers:
---
Preparation
Log in using the email and password you created when invited to your ManageXR organization.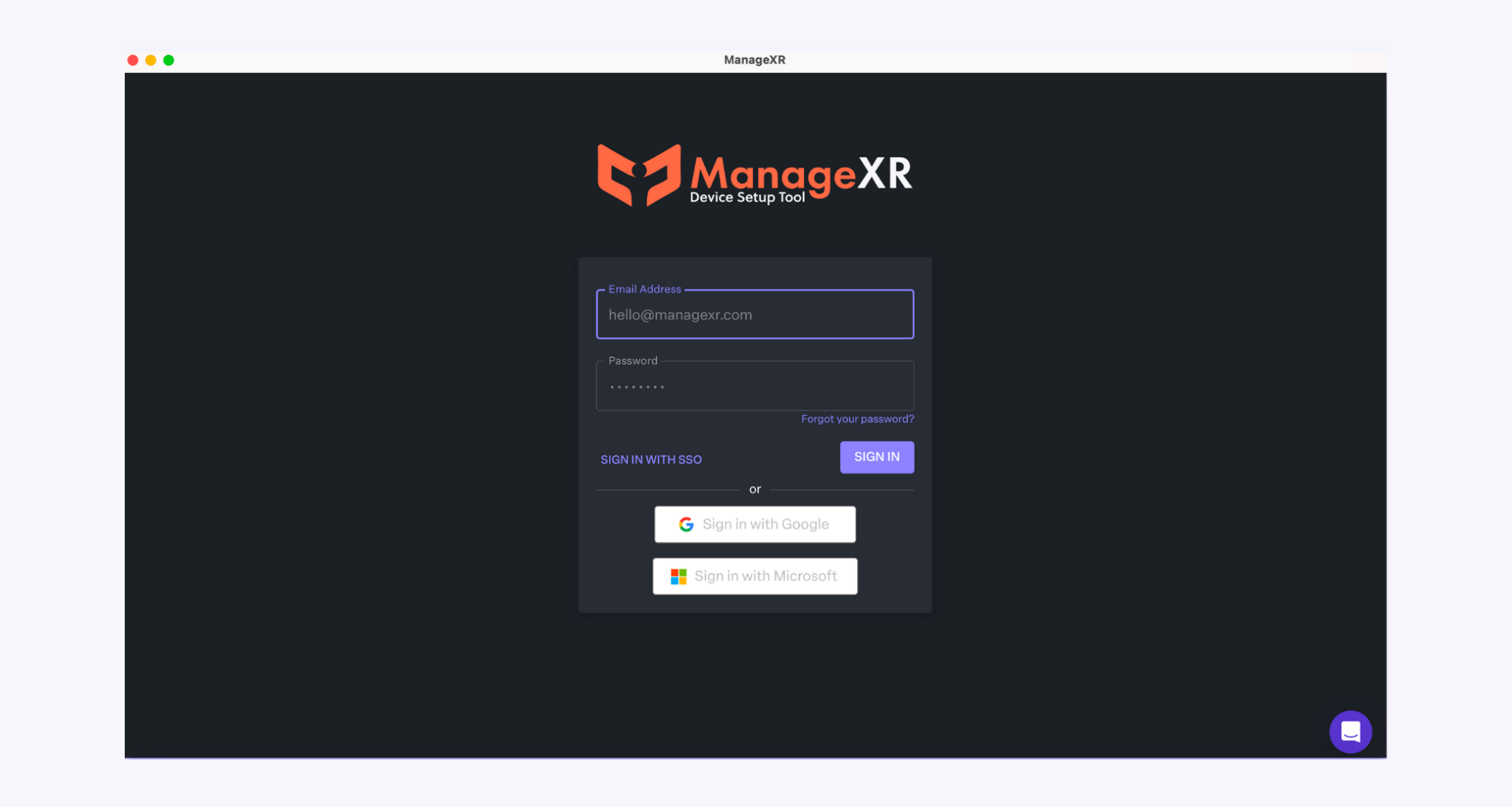 Ensure you have selected the Organization from the Organization dropdown in the top right corner that matches the organization the devices belong to.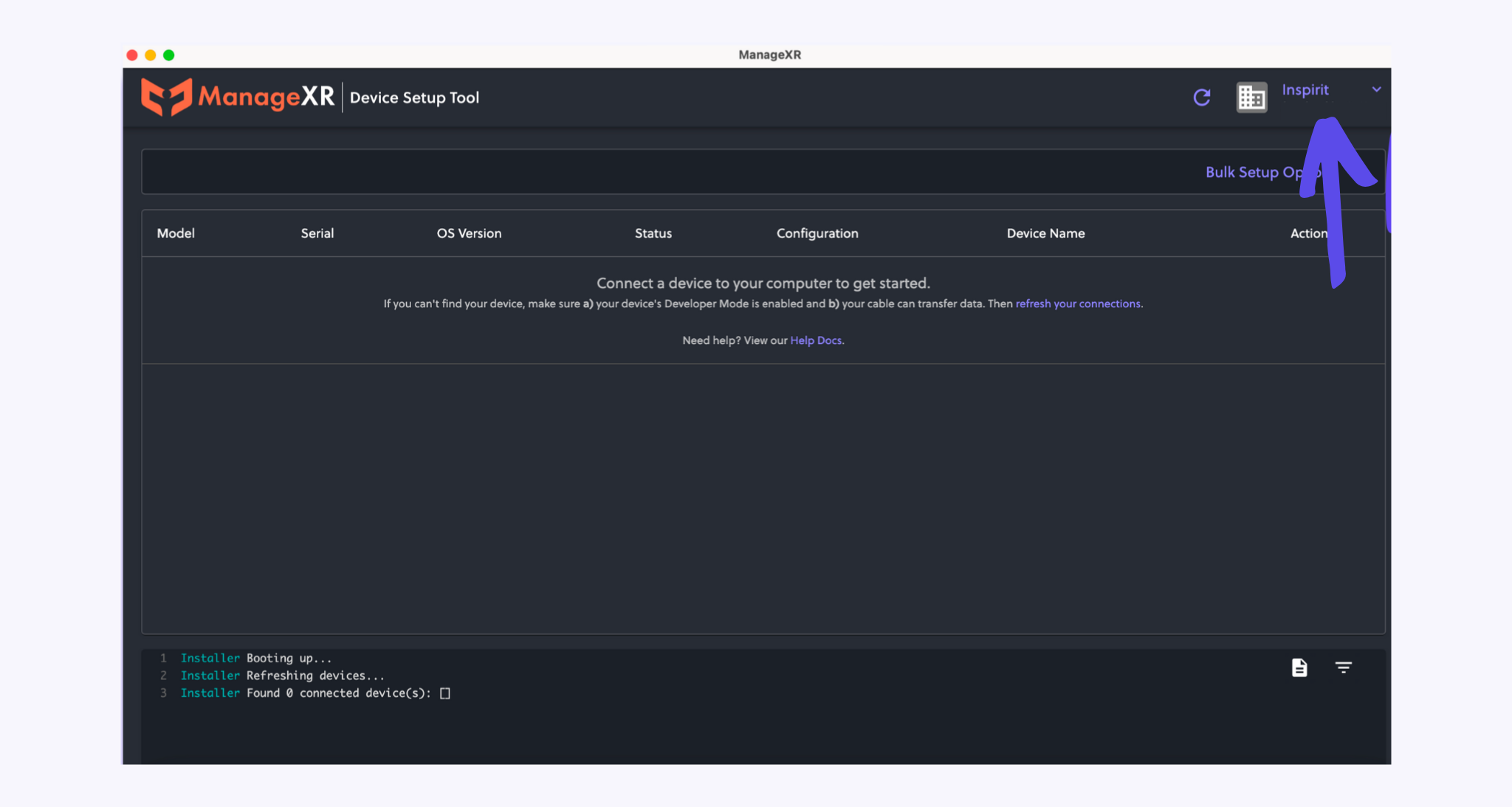 Ensure the preload device configuration setting is on by going to the Settings menu underneath the Organization dropdown menu and checking the Preload Device Configurations box.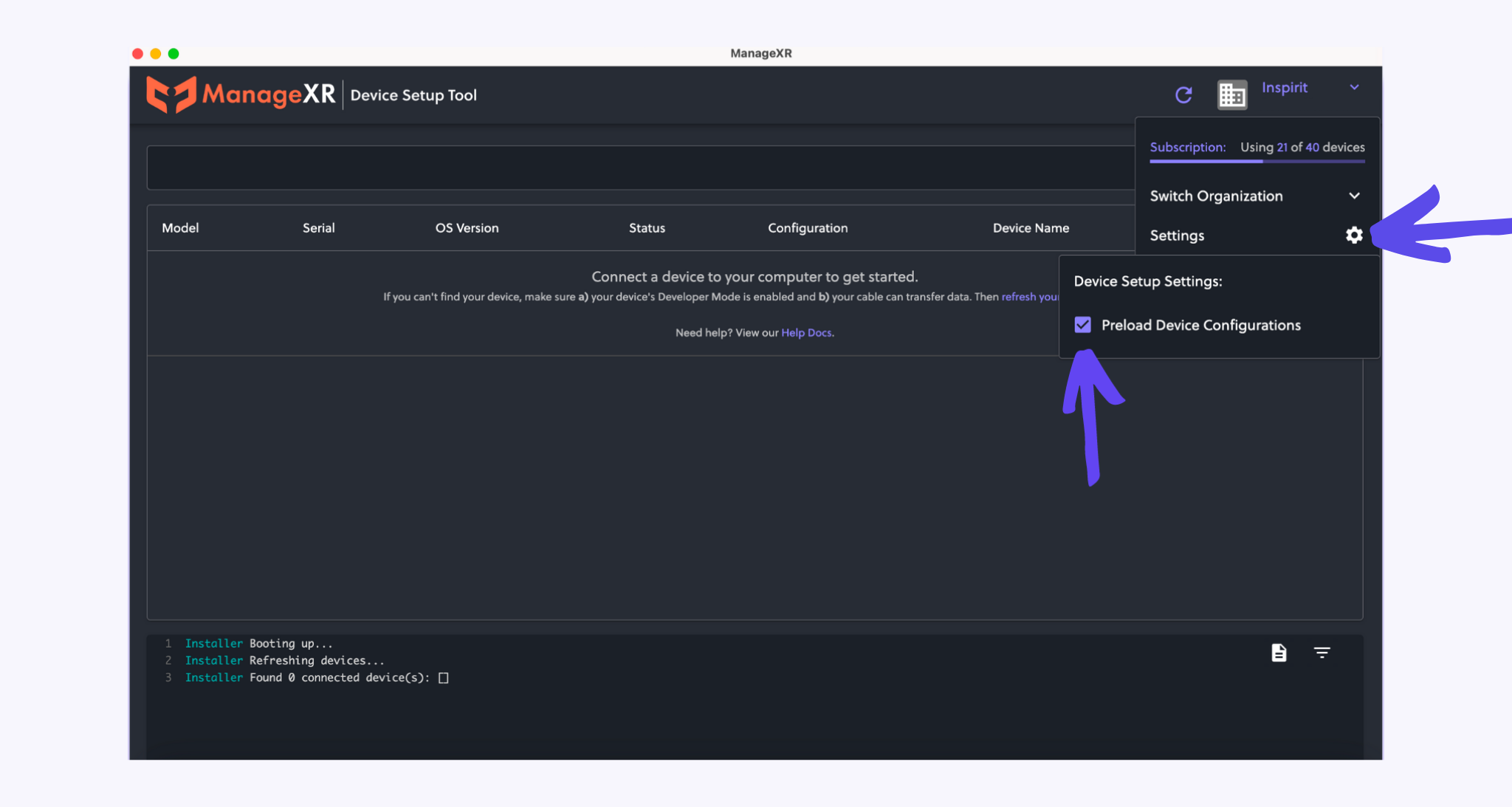 Download and log into the Meta Quest mobile app on your smartphone.
**You must create a meta account and set it to developer mode before moving on to Installing MangageXR
---
Installing ManageXR
Once you've logged into the ManageXR Device Setup Tool, plug your headset into your computer.
The device status will read Not Authorized. You need to authorize your computer to connect from within the headset. Inside of the headset, you will have two separate popups you must accept. The first will allow USB debugging, be sure to select Always Allow for this option. For the second popup, we will click Allow to give permission for your computer to access files on the device.
On the computer, click Refresh Device in the Device Setup Tool. If your device isn't showing in the tool, click the refresh icon at the top of the setup tool.
In the headset, a special settings menu will have opened. Put the headset on and remove all Android, Meta, and Oculus accounts (

more info here

or video steps

here, starting at timestamp 2:41

). Once all of the accounts are removed, immediately move on to the next step.
On the computer, click Refresh Device in the Device Setup Tool.
On your computer, assign the correct configuration and device name (you can use the default device name by not entering anything into the name field).
Click Install in the Device Setup Tool.
The device is now fully set up on ManageXR; it will begin to download and install its configuration on its own. To verify that this step has been completed, ensure the device is Up to Date in ManageXR. See more information here if needed.
Related Article(s)
Enabling Developer Mode, ManageXR 101, ManageXR Troubleshooting Guide
---
Still Need Help?
If you have any more questions or need further assistance, feel free to reach out to our support team for help. You can submit a ticket in our help center and someone will get back to you shortly (usually within 24 hours).